Designed to be minimally invasive to the host aircraft, the REAP provides the ability for an aircraft to easily support a rapid reaction, multi-mission role without experiencing the huge time and cost drivers associated with a non-recurring engineering effort to develop and integrate new systems into the aircraft.
The REAP has a common MIL-STD mounting interface, houses its own antennas and requires nothing more than the attachment hard point and power from the host aircraft, allowing the flexibility to snap it on, pull it off and swap it out as required to support the mission.
The REAP uses high Technology Readiness Level Government and Commercial Off-The-Shelf (GOTS/COTS) components and an open architecture to provide a robust communications and situational awareness capability.
Ultra has integrated a number of components that facilitate Joint Tactical Radio System (JTRS), Adaptive Networking Wideband Waveform (ANW2), Mobile Ad Hoc Network (MANET), Tactical Targeting Network Technology (TTNT) and Common Data Link (CDL) waveforms; Link 16, Cursor on Target (COT) and Situational Awareness Data Link (SADL) Tactical Data Links (TDL); Naval Automatic Identification System (AIS) tracking; Automatic Dependent Surveillance – Broadcast (ADS-B); and tactical exchange of voice data and imagery, such as TDL tracks, situational awareness, chat, 9-line, free text, streaming and throttled video, still images, Voice over Internet Protocol (VoIP), virtual teleconference, sensor points of interest and file publish and subscribe services.
Supports information superiority across the battlefield: air-to-air and air-to-ground
Non-invasive to host aircraft
Radio and TDL BLOS extension
Bridging/translating betweendisparate waveforms andfrequencies
Video management anddissemination
Link 16, SADL, EPLRS, CoT, JTRS, TTNT, ANW2, AIS, UHF/VHF, HAVEQUICK, SINGARS, MANET, Project-25, Multiband CDL, VoIP/RoIP
Self-reporting of host aircraftinto TDLs and COP
Computing resource in the sky: publish, subscribe, query
Flexible payload bus; can be used to host various C4ISR payloads
REAP interoperability at the tactical edge:
REAP enables warfighter information superiority and enhances communication between edge users and theater commanders.
REAP's TacCore™ Hardware and Software.


REAP can also serve as a ready, pre-qualified testing platform for new airborne Command, Control, Communications, Computers, Intelligence, Surveillance and Reconnaissance (C4ISR) electronic components requiring testing under operational conditions. Whether the requirement is for communications support from air-to-ground, air-to-air or both; or an ISR payload with communications distribution; or an experimental payload ready for flight, REAP is the solution.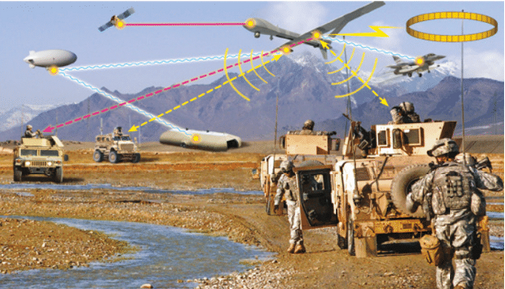 Software services
Web browser-based interface
User authentication and privileges
Power switching and monitoring
Data archive•Chat server
Pub/sub data bus
Infrastructure for custom applications

Basic specifications(vary based on configuration)
Weight: ~120 lbs •Power: ~500 W
Temperature: -40° C to +65° C
Altitude: Up to 70,000 ft. MSL